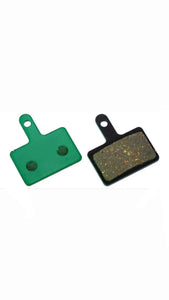 COMPATIBILITY: 
Shimano BR-M315, BR-M355, BR-M365, BR-M375, BR-M395, BR-M415, BR-M416, BR-M416A, BR-M445, BR-M446, BR-M447, BR-M465, BR-M475, BR-M485, BR-M486, BR-M495, BR-M505, BR-M506, BR-M515, BR-M515LA, BR-M525, BR-M575, BR-M4050, BR-C501, BR-C601, BR-T615, BR-T675, BR-TX805. Deore, LX, SLX, XTR, Saint, Tourney, Ultegra, Nexave, Mechanical and Hydraulic range. Pads models B01, B01S, E01, E01S,M05, M05S, M05Ti, M08, M08S and M08Ti. Also compatible with RST, TRP, Tektro, Bengal, GIANT and others.
COMPOUND
Upgrade your pads from Manufacturers standard offerings to increase braking feel stopping power and riding modulation
Air Bikes Ceramic Disc Pads have been custom manufactured to meet and exceed braking standards with longer life as standard. 
Air Bikes Ceramic Disc Pads pads are constructed using a high quantity concentration of ceramic fibres, this offers smoother on demand braking, longer pad life in all conditions, with Air Bikes Unique heat insulator formula construction you will have less heat build up, due to the higher density ceramic and softer compound this dramatically slows the heat "Build-Up" process which most pads suffer from,  This leaves you a better feeling lever for longer, a huge braking advantage over standard Resin and organic pads. Once you go Air Bike ceramic pads you will never go back!!
INCLUDED: 
Each set includes one Pair of Pads, Strong Stainless Steel Spring and FREE Brake Pads Retaining Split Pin (where applicable). 
High quality aftermarket brake pads which are developed and tested in the UK to meet the highest standard quality and reliability requirements. We cooperate with leading factories around the world to bring you proven high performance products.